With each passing day, the exuberance of celebrating Diwali keeps on increasing. People are decorating their homes, buying crackers, and planning various other festivities to celebrate the fun-filled days that lie ahead of them joyfully.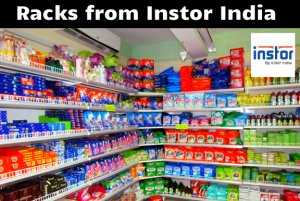 However, this joy isn't just limited to homes; business owners also expect their business to bloom during Diwali. Whether it is clothing or electronic stores, customers look forward to Diwali shopping with the utmost zeal. Therefore, as a business owner, you must make sure your customers get the best shopping experience when they visit fyour store. Installing new display racks from Instor, India's #1 supermarket rack supplier, can contribute to this experience. Here's how: 
1. Racks of the highest quality
Instor believes in going the extra mile to deliver products of the highest quality to its customers. Hence, when you buy display racks from us, you will find a product that is tough, sturdy, and very flexible. Unlike traditional racks, the flexibility of our racks allows the shelves to adjust, interchange, and connect quickly, which helps in making extra room for storage. Hence, you can store more products by moving them from their original storage unit to a new storage unit.
The usage of high-grade materials to produce these display racks make their shelves sturdy and durable. Moreover the racks don't carry a risk of corrosion due to the unique corrosion-resistant powder coating. Overall, buying display racks from Instor is a worthwhile long-term investment.
2. Can support a heavy load
The festival of Diwali brings with itself a lot of customers. It means that business owners have to display a lot of products on the racks to meet higher customer demand. For situations like these, the display racks should be strong enough to support the added load. This is where our display racks come into the picture. 
Thanks to the high-grade materials used in designing them, these racks can support heavy products with ease. Plus, the racks come in different sizes and configurations, which makes it easy to load and unload goods. As a result, you can display products of various types with ease, which will give your customers the luxury of browsing different brands before buying a product. Instor's display racks will not only brighten up your store but also make stocking up a lot easier. 
3. Gives your store a modern look
As the years go by, the preferences of customers also keep changing. In current times, customers prefer to shop in a store or supermarket which has excellent decor, a modern-look, and where the products are neatly displayed. Instor's display racks satisfy these preferences. As our designers understand the mindset of your target audience, we can produce display racks that will give your store the perfect festive look. An example would be the space utilization of our wall units, which will make your store look more spacious, while adequately displaying all your products at the same time. Thus, Diwali shopping will become a contemporary experience for your customers!
 While a lot of retail display racks manufacturers operate in India, the quality we provide is second to none. Install our display racks this Diwali and change your store's story for the better!